---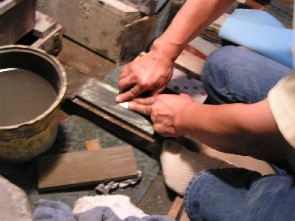 Japanese Hand Tools and Joinery Classes - Spring 2012
Taught by Jay van Arsdale
these classes are on Saturday and Sunday from January 21-22 to march 31
INTRO TO JAPANESE HAND TOOLS AND JOINERY
Held at Laney College Woodtech department. Sign up at Peralta College.
Code 30324
Semester classes start jan 28 and end May 19---cost $52, 2 credits. Students must supply their own tools and wood for these classes. limit 30 students

Special Projects- Laney Wood Tech 200
Held at Laney College Woodtech department. Sign up at Peralta College.

Tuesdays and Thursdays 6-10pm Semester classes start June 16 and end July 26th ---cost $52, 2 credits. Students must supply their own tools and wood for these classes. limit 30 students

Merritt Landscape Horticulture- lanht 59
Held at Laney College Woodtech department. Sign up at Peralta College.

Mondays and Wednesdays 6-10pm Semester classes start June 4 and end August 1 ---cost $52, 2 credits. Students must supply their own tools and wood for these classes. limit 30 students

The following classes are held in Jay van Arsdale's shop. To sign up, contact him at 510-635-7182 or jayvanarsdale< at >aol.com .
ADVANCED JOINERY AND SPECIAL PROJECTS
9 classes (jan 28, feb4, 11, no class 18,feb25, mar 3,10,17,24,31 )
Prereq is intro to japanese hand tools and joinery, and have basic tools. Limit 10 students. Cost is $385
COMMUNITY SERVICE PROJECTS WITH DAIKU DOJO
Sunday 9am-1pm cost $ 295.
Preq is into to Japanese hand tools and joinery and advanced joinery. We will be working together on projects for non-profs in the community. We have a few interesting projects lined up. We are just finishing the new fence at KoHanEn- the Japanese garden at lakeside park at Lake Merritt in downtown Oakland. Check out our work at www.daikudojo.org . our project this session is building a three sided roofed kiosk for the Merritt college landscape garden - we are looking forward to doing more work at the garden in the near future. In each of the shop classes we have 2 scholarships to waive one half of the class fee for students who need and deserve aid. Contact us for more info.
COMING IN APRIL IS A WORKSHOP WITH RICHARD WIBORG
(Indianapolis) in aug. plus week workshops this summer.
ASSISTED by JAY- BUILDING A CHINESE CORNER BRACKET SYSTEM
contact Richard at rswiborg@aol.com. Further notices about this workshop and summer workshops will be posted. Jay will be teaching a 5-day intro class at Marc Adams school
JOINERY BUILDS CHARACTER, COMMUNITY, CULTURE

| | |
| --- | --- |
| "Sai Soku, Issai" or "Measure Twice, Cut Once" | |
Highlights From Class
Japanese Gate (community project) - August 26, 2006, Completed on September 16, 2007.
Making a Dai (Japanese Wooden Plane Body) - April 01, 08 of 2006
Building Workbenches - January 14, 21, 28, February 04, 11 of 2006
Toolboxes and Tool Storage - January 28, 2006
Japanese Hand Tools - January 28, 2006
Class Photo Journal